Here's When Destiny 2's Second Expansion, Warmind, Is Releasing Plus A Development Roadmap Update
We're going on a road trip.
The second Destiny 2 expansion has been revealed as Warmind, and players will be taken to new places and meet new heroes and enemies next month.
Currently there's no trailer for the game, however David "Deej" Dague, Destiny 2 community manager, has said that it's on its way and committed to a date.
We will give trailer on April 24. We'll do it live.

— DeeJ (@DeeJ_BNG) April 11, 2018
Bungie also opened up about its development roadmap, laying out the plans for Season 3 and beyond. The first step will be the 1.2.0 update that's coming with the Warmind expansion which will include seasonal Crucible rankings, increased vault space, private matches, Exotic Weapon masterworks and more.
All Crucible maps that are being developed for the Warmind expansion will be made available to all players, as well as all of the Curse Of Osiris maps, however they won't be universally accessible in private matches. Only those who own the expansions will have access to the Expansion maps in private matches.
Over the summer Bungie will deliver a new seasonal event as well as improvements to bounties, clan chat on PC, Faction Rallies, and (if possible) Exotic Armour sandbox changes. After that comes Season 4 which is due to start in September, and that comes with weapon slot changes, gear collections, weapon randomisation, records and more.
"Our goals for these [Season 4] features are to give you more control over how you configure your loadouts in Destiny 2 and give you more reasons to play the game over time" said Bungie. "We also want to bring back those exciting moments when you acquire the perfect weapon. To make this happen, updates like Weapon Randomisation, Weapon Slot Changes, Gear Collections, and Records will be delivered to all players".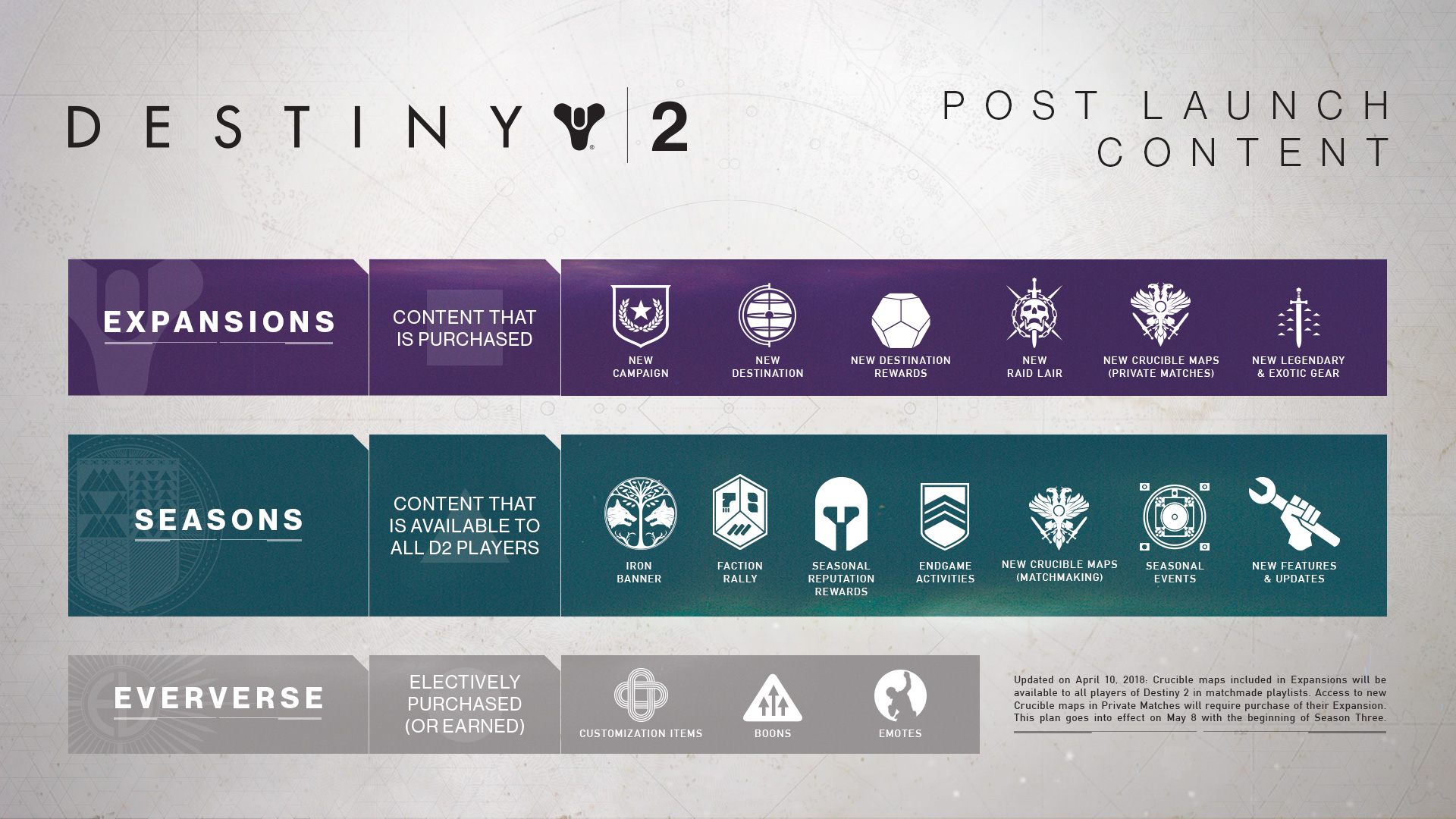 As you can see from the first image, Warmind is due to release on 8th May, which is only 3 1/2 weeks away.
Will you be grabbing the expansion, or will you be sticking with the new Seasonal updates to see what they offer? Let us know below!
---
---
Tags: PS4, Xbox-One, PC
---
Written by Megan Parker Posted Has 5 Comments