You'll Need To Pay For Additional Save Slots In Metal Gear Survive
Cough up.
Yup, you read that title right. If you want another save slot, you'll have to pay up.
First noticed on Reddit and confirmed by PC Gamer, if you want to create a new save slot, it'll cost you 1000 SV Coins. SV Coins are an in game currency that can only be bought with real money; you're also given 30 SV Coins with every daily log in. If you wanted a new save slot but didn't want to pay, you'd have to log in every day for 33 (and a bit) days.
Once the New Game option is clicked and assuming 1 save game already exists, you'll be met with the following message: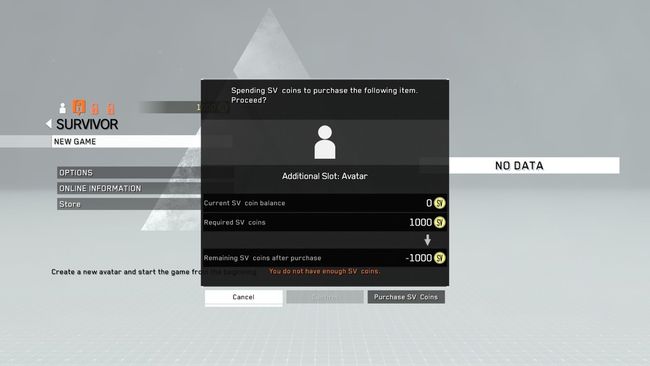 Currently, the cost of 1150 SV Coins is $9.99 / £7.15. Here's the full list of prices (with rough conversions) for differing amounts of SV Coins:
100 SV Coins - $0.99 / ~ £0.71
550 SV Coins - $4.99 / ~ £3.57
1150 SV Coins - $9.99 / ~ £7.15
3500 SV Coins - $29.99 / ~ £21.46
6000 SV Coins - $49.99 / ~ £35.78
What are your thoughts on having to pay for an additional save slot? Let us know below!
---
---
Tags: PS4, Xbox-One, PC
---
Written by Megan Parker Posted Has 12 Comments